Vintage New Martinsville Etched Flower Glass Double Candlestick Holders Prelude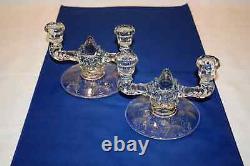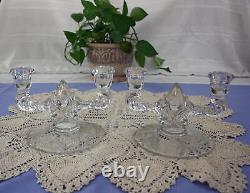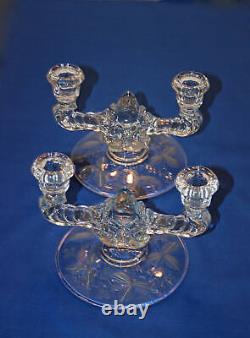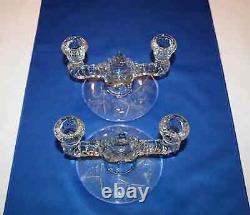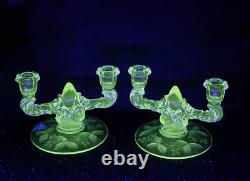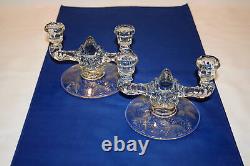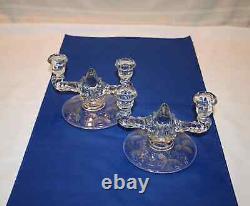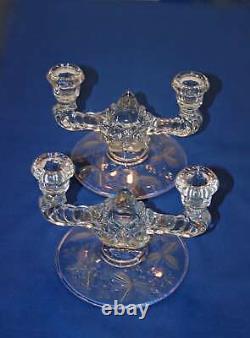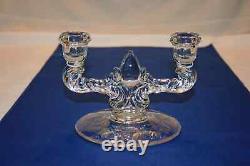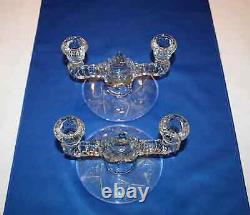 At first, it relied upon pressed glass patterns for the majority of its income. By 1905 the company began embellishing their work by adding gold paint and ruby stain. From that prestigious history comes to you a pair of gorgeous double candlesticks in the Prelude pattern; a gorgeous double candle holder with delicate etching in the underside of the base. The etching is reminiscent of strawberry vines.
This beautiful pair must have been a part of their original production pieces, as they are truly Early American Pattern Glass era - they glow a lovely green when exposed to a black light. At approximately 5-1/4" tall x 7" across the arms - this lovely pattern quickly became a favorite! The design of the piece, and the quality of the glass used make them appear ice-like and that may start to melt at any moment!
Making them unique and more importantly, a gorgeous accent to any setting. However, all these personality flaws just make 170 years of glass all the more wonderful!!
Early American Pattern Glass (EAPG); produced between 1850 and 1917 - glows a wonderful, bright yellow-green color when exposed to black light, so you can be sure this is true to the era. These pieces are in wonderful antique condition - no chips, cracks or fleabites! Whether for the new collector or the connoisseur, these beautiful candlesticks will be a lovely addition to your vintage or New Martinsville (Viking) Glass collection!! Please review all pictures, as they are part of the description.
Please message me with questions and thank you for visiting!